Please click on patterns to show examples
Design Your Own Bishop Dress
With a just few changes and some understanding of design and construction, this pattern allows you create many styles of Bishops from one pattern. Sizing ranges from 3 Months (11 lbs.) to Size 6, all in the one pattern.
View A
starts with the most basic design featuring CB Closure and Smocked Sleeves.
V
iew B
offers a Buttonfront Closure with Bias Bound Sleeves.
Additional styles include a Closure in the Armhole Seam, a Sleeveless Jumper/Sundress with Shoulder Ties and finally a Bishop with Butterfly Sleeve.
Once you have the basic two closures and sleeve treatments you can mix and match as you please. As in the 'sister' pattern, 'Design Your Own Basic Yoke Dress', there is a section "For the Designer in You" with more ideas and suggestions to create many different options.
There are four design plates to choose from and tips sprinkled throughout the instructions and pattern sheets. Keeping in mind that not all children wear fussy batiste or fine linen dresses, and not all fabrics pleat up the same, there are adjustments within the pattern for different weights of fabrics. Allowance is offered for three weights of fabric as well as neckline shaping. So, if you are working with fine Swiss batiste, broadcloth, or brushed cotton, there is a pattern width option for each. The use of a pleating machine or pleating service, some knowledge of smocking and sewing are required.
Have fun with this pattern and become creative!!
Price: $15.00

Design Your Own Basic Yoke Dress
The term "classic" or "basic" yoke in smocking refers to a garment that has a horizontal seam across the front bodice, usually in the armhole area or just below. It traditionally has a collar, puff sleeves and smocking to the bottom of the armhole or to the waist. This style of smocked garment was popular in the 30's and endures to this day.
The back dress usually echoes the front, with the skirt gathered or smocked onto a yoke, back yoke buttoned to the end or to the waist and, often has a sash or button belt added. In this pattern, traditional styling has been offered as well as a few additional modern looks and variations to help you with your design such as the Tulip sleeves and shoulder ruffle.
However, it also encourages you to take a leap and design your own garment. Mix and match different elements and suggestions in the "Designer in You" section to create a unique little dress, jumper, or pinafore. There are so many ways to be creative.
Each step of the way through construction there are choices you can make, so, plan your garment accordingly with the aid of the 'child's body' (croquis) on the pattern sheet to get the feel of your own design. This little tool will help you to record not only your new design but also make note of what notions you might need such as lace, coordinating fabric for lining or piping.
Don't forget the
Whimsical Tulip Hat
which
was inspired by Cicely Mary Barker's delightful fairy illustrations in her children's books. There actually is a blue Scottish harebell flower which she used along with several other flowers, like tulips, as fairy hats in her illustrations. This little hat can be made to coordinate with your dress to complete an ensemble. Line it in a second fabric and make it reversible! Add a button topknot, contrast topstitching, embroidery, micro piping or a little Velcroed® chin strap. Again, so many choices.
Infant Sizes: 3 mos./11 lbs.; 6 mos./14 lbs.; 12 mos./20 lbs.; 18 mos./26 lbs.
Price: $15.00

Images:
White dress: Baby puff sleeves, Bias bound neckline with narrow lace trim, smocked, in batiste
Print dress: Tulip sleeves, Peter Pan collar, smocked in cotton broadcloth
Blue dress: Shoulder ruffle, wider lace trimmed neckline, smocked in fine silky cotton
Blue dress: Tulip sleeve lined in satin, dress in pinwale corduroy, unsmocked and piped with fine satin piping
Tartan dress: Button back belt, tartan cut on bias (lining on straight grain) Piped in contrast
Tulip Hat: Seen here in a coordinating print (smallest size) lined in mini gingham.
Pinwale corduroy (largest size) lined in a coordinating print to match two of the dresses. Note the flippy, dimpled brim.
The Newborn Baby Layette
Let this pattern become your 'go-to' pattern for newborn baby layettes.
Included in pattern: a traditional baby nightie, burp cloth, bunny gift washcloth, receiving blanket, hooded towel, change pad and a toque!
The traditional nightie
can be smocked or not and has three sleeve lengths. It can be made in batiste, flannel or soft fine cotton knit. New moms with little time for pressing will love you for an easy-care garment made of knit fabric! But don't let the term nightie fool you – this gown could be a little dress, a day gown, or Christening gown. Just change the length and fabric. It can be embellished with laces and Swiss embroideries or a monogram, embroidery or enhanced in any fashion you wish. Three smocking designs are included.
The burp cloth, receiving blanket, change pad and hooded towel
are so easy and can be finished with binding or any method you choose.
The toque/beanie
is similar to those worn by newborns in many hospitals today and can be made of rib knit fabric or plain knit. The cuff can be embellished with embroidery, cross-stitch or smocked motif to coordinate with the gown.
And who could resist the little
bunny wash cloth
? You will want to make several of these once you see how easy and cute they are.
A few yards of material can yield a beautiful, coordinated baby layette! Pack it all along with newborn diapers and baby wipes into a wicker basket or decorated box and you have a wonderful baby shower gift!!
Sizes: 3lbs., 5lbs., 8lbs., 11lbs.
Price: $12.00


For more traditional boy bonnets also see
"The Preemie Baby Boy's Bonnet"
and
"The Baby Boy's Smocked Bonnet".

Also check out
"Buckleberry"
Teddy Bear to fill out your basket of shower goodies.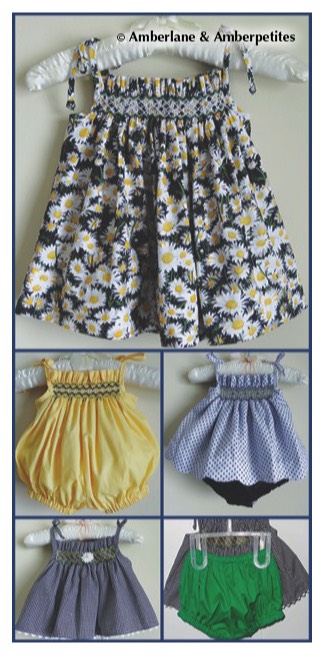 Sunkissed
Sunkissed is a pattern with loads of options. It started out as a simple little sundress. But then it grew into a romper and then a romper with a "float". The float became a sun top and the bottom of the romper turned into a diaper cover.
Turn the sundress into a pinafore or jumper with the addition of a T-shirt or sweater or team it up with a coordinating onesie to take it into a year-round garment. There are just so many ways to make it up.
The pattern includes three easy smocking designs and can be made in a variety of fabrics. Mix and match prints and solids for unique results. Make it your own and let your imagination run free!
Sundress
in a 100% cotton quilting print
Size: 32lbs. / 24 mos.
Romper
in silky 100% cotton broadcloth
Size: 14lbs. / 6 mos.
Romper with Float
in poly-cotton print + solid co-ordinating batiste weights
Size: 11lbs. / 3 mos.
Sun Top
in 100% cotton gingham
with Diaper Cover
in poly/cotton solid
Size: 20lbs. / 12 mos.
Price: $12.00
The Preemie Baby Boy's Bonnet
Presenting a preemie-sized baby boy's bonnet for smocking or not!
The pattern includes sizes for 1 pound to 5 pounds baby boys. There are three smocking design plates and a plain insert for those who wish to embellish or embroider rather than smock. There are suggestions for other ways to embellish this wee bonnet and tips to make the micro piping. It is just waiting for you to stitch.
This is an excellent project for the Wee Care Program or other such programs.
Sizes: 1lb., 2lb., 3lb., 4lb. & 5lb.
Price: $8.00
Playtime
Call it a playsuit, a sun suit, overalls, dungarees, a romper, or painter's pants; it all depends on where you live and perhaps the season. With easy buttoned shoulders and optional back belt, you can choose to smock an insert or employ another technique. A cute back pocket is another stylish option.
This little outfit is great for both little boys and girls alike who love to play. Team it up with a little shirt, T-shirt, cardigan or hoodie for cooler weather and in the summer it can "go it alone".
Colour and fabric can easily make it a little girl's or boy's outfit. Imagine it in a multi-coloured stripe or a cute floral print or corduroy. But even little girls wear denim these days!
Let your imagination go wild and have fun with this pattern. How many ways can you create it?
Sizes: 1, 2 & 4
Price: $15.00
Sweet Little Kisses
Cute, pert and easy to wear this little girl's mini dress is suitable for good quality interlock knits as well as good quality cotton or other easy care fabrics. This little dress is designed for busy new moms who want clothes that go from the washer to dryer and are ready to wear.
It features very simple styling with bias bound scoop neckline and little cropped sleeves. The dress front is gathered into the neckline and the sleeves are slightly gathered at the cap. It has an easy back opening and the underarm pleats add a bit of fullness to the skirt. You can easily lengthen or shorten the dress as desired. With its simple shaping turning the hem is a breeze and there are so many ways to do so. An optional pocket has been included.
The dress can also be made sleeveless with armhole binding. Team it up with leggings, tights or shorts if you like. Or treat it like a jumper and add a long sleeved onesie.
"Designer's Tips" offer more ideas for making this little dress 'your own'.
Sizes 1, 2, 4 & 6
Price: $12.00
Lullaby, An Infant Sleep Sacque
This little Sleep Sacque is the new way to dress Baby for bed
- your answer to no-blanket baby sleepwear. Paired with a T-shirt, it is a great replacement for a baby nightie, ensuring warmth without blankets which can be kicked off in the night. Make it from soft cotton fabrics, flannel or knits depending on the season and climate. The side zipper makes diaper changing easy - even with a squirming baby in the dead of night! The pattern is sized by weight and chest measure rather than age for more accurate fit. Birth weights vary so greatly these days that age-sizing becomes meaningless. The pattern is also easily shortened or lengthened or width increased for traditional smocking. Make one but be prepared for requests for more!
New smockers: Instructions for dot-free, pleater-free smocking have been included
!

Sizes 5lb., 9lb., 14lb., 20lb. & 26lb.
Price: $12.00
Infant Snowdrift
This sweet little dress is the last in the Snowdrift series.
Make it as a little dress with bias bound sleeves or as a sleeveless sundress/ jumper. Smock it in the front or front and back, lavish it with lace for an heirloom look or just leave it plain to let the fabric tell the story. The pattern has been designed to be made from broadcloth-weight fabrics but don't let this hold you back! Be creative and see what you can do. There are lots ideas of how to make this pattern "your own" within the Designer's Notes section of the pattern. For instance there is the cutest variation for adapting it to batiste that incorporates a built-in slip! Little Diaper Cover Panties with a bias cut panel in back and an optional tab in front have been included in the pattern. The sizing runs from infants 11 lbs., 14 lbs., 20 lbs., to 26 lbs. Three design plates have been included for those for you who love to smock.
Price: $12.00
Infant Wardrobe I
Special Occasion Dressing.
Not all fathers want a christening gown lavished with lace for their baby boys. And not all little girls are cut out for frilly dresses. This pattern gives you another option for special occasion dressing for both boys and girls. There is a simple collarless jacket with pockets, dress pants with optional pockets, a tailored shirt that can be ruffled for girls and a "Scottish" kilt and tam for dress occasions for a baby who doesn't want pants. There are many ways to do up each of these pieces so they can be as tailored as you please or dressed up with lace tucks or smocking. Imagine a tiny velvet jacket with a tartan kilt or 'trews' and a beautiful silk shirt with a tiny bow tie or a lace-edged jabot. What could be more attractive on a baby at a wedding or for Christmas? Or do the outfit all in white linen, piqué or silk for a Christening. For a funky look, do the mix of prints, plaids and checks that are currently in vogue. You can be as bold as you like and use up some of your quilting fabrics for fun dressing and everyday clothing. You don't have to be Scottish to wear a kilt! Remember, kilts and tams are traditional military wear for men. Each piece is so much fun to create! The pattern is sized by weight and chest measurement not age as not all babies are born at six pounds! There is lots of wearing ease as well to make dressing baby easier and the pieces are easy to lengthen or shorten if needed. Sizes 8, 11, 14, 20, 24, and 32 pounds included in this pattern.
Price: $12.00
Infant Tuxedo Jacket
Special Occasion Dressing.
This little Tuxedo Jacket was designed to coordinate with the Infant Wardrobe I pattern. It is clean-lined in satin to make the finishing easy, neat and tidy. You could make it in white for a Christening or Naming ceremony or in a colour to coordinate with a wedding party or family tartan. Eliminate the tails and end it at the waist in the back and it is quite similar to the traditional jacket worn with a dress kilt. Size range to match the Infant Wardrobe I pattern: 8, 11, 14, 20, 24 and 32 pounds all included in this pattern.
Price: $10.00
Baby's Breath
A Baby's Seamless Bishop Nightie.
Once upon a time newborn babies came home from the hospital in a cozy, soft, tiny, smocked flannel nightgown or bunting. This pattern is designed to carry on this tradition. It is seamless in the neckline area making the pleating super easy but has a unique set in sleeve. It comes in sizes 5, 7, 9, and 11 lbs. and was designed to be made in soft flannel or 100% cotton knit. To reduce bulk, it is suggested that the neckline be bound in soft satin fabric. Construction is completed before you start smocking. Since it has no neckline shaping, it can be worn buttoned or domed up the front or back depending on your preference. The bunting bottom has been offered as an option. Dress it up or keep it plain. Three design plates are included along with tips and additional ideas at the back of the pattern. It is a joy to make for your new bundle of joy.
Price: $8.00
Little Snowdrift
This girl's version of the ladies nightgown
, Snowdrift, can be made as a jumper, a sundress, a short sleeved dress or long-sleeved nightgown with smocking in front and back. The pattern has been designed to be made of heavier weight fabrics such as broadcloth, flannel, light weight wools, fine corduroy etc. It comes in sizes 2, 4, 6, 8 and 10.
View A is a jumper with an asymmetric button closing.
View B is a short-sleeved dress with button front closing and Peter Pan Collar.
View C is full length, with sweetheart neckline, button front placket & long sleeves.
Pattern contains 3 design plates and pattern for stand-up collar & cuffs. Be creative and try colour blocking one of the views or mix and match the collars and sleeves with the yokes for more looks. Match it up with the Dolly Snowdrift to delight that little girl in your life or make a mother daughter set.
Note: Government regulations require children's sleepwear be made of flame retardant fabric.
Price: $12.00
Little Breeze
Little Breeze is the children's version of the ladies' nightgown, Summer Breeze.
It comes in sizes 2, 4, 6, 8 & 10. The pattern makes a delightful pinafore or sundress with the same square armhole bands as the adult gown.
View A is knee length, smocked front and back with a ruffle neckline and rickrack trim.
View B is a full length heirloom version with an easy Swiss edge overlay on the front bodice band and trimmed with mini piping. The bodice bands are open to your personal interpretation with laces and tucks or embroidery.
View C is a harlequin inspired smocked gown, slightly longer than View A and constructed of 12 colour coordinated skirt panels.
The hem features playful picot points and the bodice bands and armhole bands are cut in contrasting fabric. All three views offer great 'twirl factor', that all important detail that little girls love. Two smocking design plates are included. Why not make a mother/daughter set in matching or coordinating fabrics?
Price: $10.00
"The Baby Boy's Smocked Bonnet"
Unmistakably a boy's bonnet! Now sized from Newborn to 11lb., 14lb., 20lb., 26lb., and 32lb., it includes the head circumference measures as well for better fit. The pattern includes two smocking design plates but the insert panel can be done with other techniques such as quilting, heirloom laces, white work, shadow embroidery, cutwork, Madeira applique, cross stitch, tucks and more. Let your creativity be your guide or just make it plain.
Price: $8.00